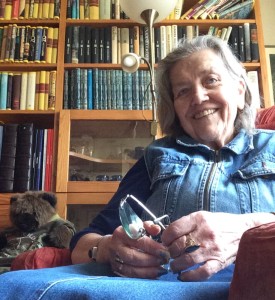 Our Fan Guest of Honor is Eeva-Liisa Tenhunen. She joined the science fiction fandom in 1987 and has since worked actively in many different roles. In 1995 she won the Atorox award for her short story Ursa Amanda (Aikakone 1–2/94–95).
Tenhunen studied Finnish history and literature at the University of Helsinki. She wrote her theses on Feminism in Finnish Riksdag in the 19th Century and on the Diaries of Young Topelius. After that she has worked as e.g. creative writing instructor in Helsingin työväenopisto as well as in courses arranged by Orivesi.
Tenhunen has been a member of the board for the Finnish Science Fiction Writers' association and a jury member for the Tähtifantasia award. She's written fact, fiction and reviews: short stories and articles on Finnish myths for Aikakone, articles on writing and book reviews (under the penname Kirjakuoriainen) for Kosmoskynä as well as book reviews and articles for Tähtivaeltaja.