Here you can find information for the vendors, art corner and other exhibitors who are coming to Finncon.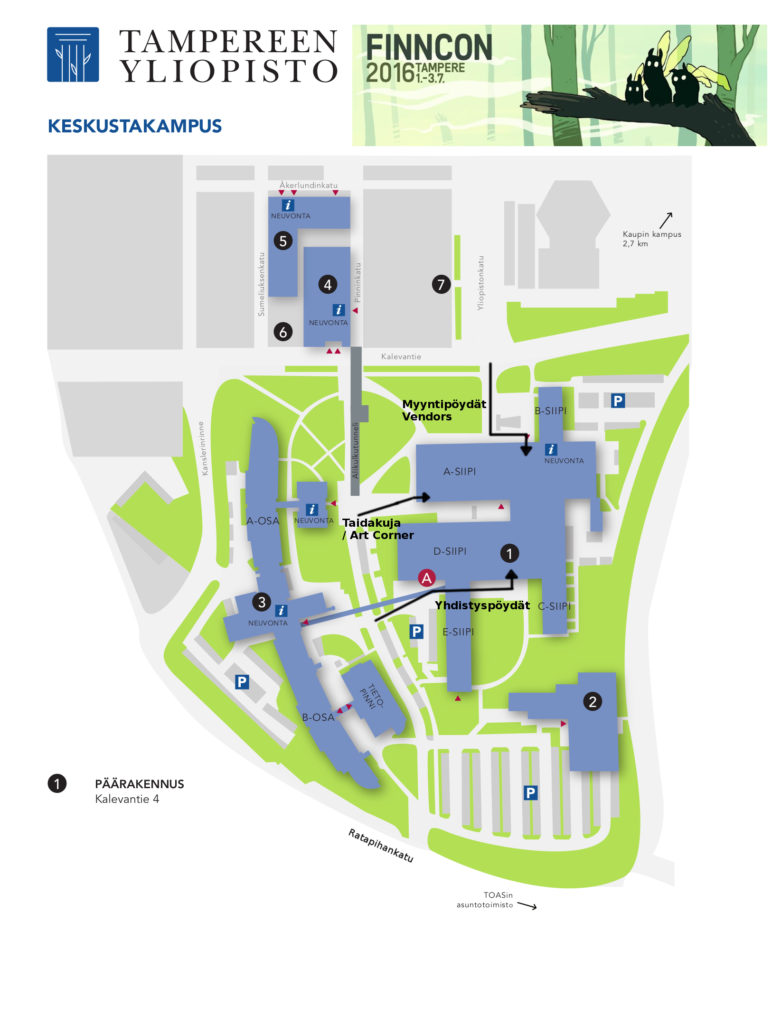 Building your booth can begin at the earlieast on Friday 1st of July from 12PM onwards.
On Saturday the doors will be open for vendors and other exhibitors starting at 9AM.
When you arrive please remember to get your vendor badge from the info desk!
On Sunday you must begin dismantling your sales booth at 4.30PM at the latest.
This is because the University must be empty by 6PM.
Please use the loading doors marked at the map so we can avoid jams!
Vendors will use the main entrance of the University, accessibly from the Kalevantien. Other exhibitors can access their entrances from Ratapihankatu.
Finncon will be open to public at these times::
Friday from 2PM to 6PM (14.00-18.00)
Saturday from 10AM to 6PM (10.00-18.00)
Sunday from 11AM to 5.30PM (11.00-17.30) – Academic track will begin at 10AM.
Remember that you are NOT allowed to put up anything on walls or other surfaces without permission!
There is free parking space available in front of the University Atalpa building (building number 2. in the map). You will NOT need a parking permit but please do not park in the reserved spaces (Varattu).
These are the preliminary table arrangements that will be adjusted on location if need be: